March 16, 2021 — Online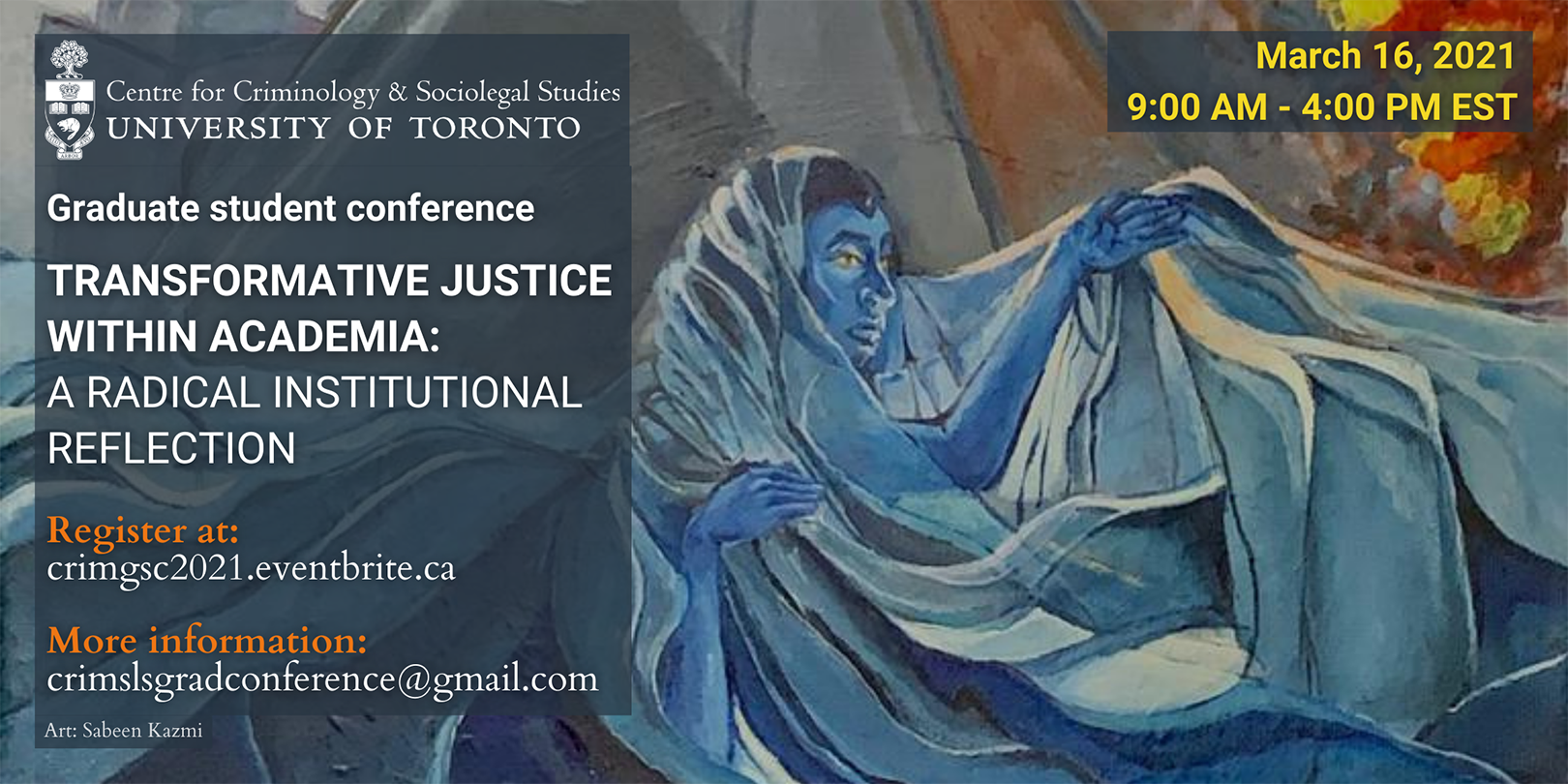 The Centre for Criminology and Sociolegal Studies Graduate Student Conference wants you to experience the common tenets of academic conferences—virtually! Transformative Justice within Academia: A Radical Institutional Reflection is thoughtfully organized to reinvigorate the academic community's love for deep, thoughtful and creative discussions with colleagues, networking opportunities as well as sustenance in the form of food to keep us going throughout the day.
The aim of this conference is to engage in conversations about structural and systematic inequality, social and racial injustices towards a radical institutional reflection of academia, a place that has long established itself as an exceptional, progressive, critical, and safe environment. As academics focused on institutional violence embedded within the Canadian legal framework, we call for an internal investigation of how similar processes of violence are augmented in academia. Through an application of a radical institutional reflection, the conference papers focus on curriculum, policies & procedures as well as personal experiences of historically marginalized groups in the field of criminology and sociolegal studies. As student researchers who are responsible for shaping the future of the field of criminology and socio-legal studies, this conference serves to imagine critical and radical transformative justice that starts from within the very institution we are all a part of.
Please Refer to our conference schedule for more information. This is an open event; everyone is welcome to attend. If you have special accessibility needs, please send us a request 14 days prior to the event. This is to ensure that we are able to provide the requested service. We do not require documentation from doctor etc for request for accommodation.
Contact
crimslsgradconference@gmail.com
Program
9:00 – 9:15 — Opening remarks
9:15 – 10:30 — Key discussion: Hawa Mire & Krisna Saravanamuttu (TBC)
10:30 – 10:35 — Health & logistic break
10:35 – 10:50 — Spoken word: Balam and Co.
10:50 – 11:00 — Health & logistic break
11:00 – 12:15 — Concurrent panels 1 & 2
Panel 1. Punitive academia
Mitra Mokhtari; ACAB: All Criminologists Are Bad? The Canadian Criminology Department & The Reproduction of Carcerality
Barbara Becnel; Black Street Gangsters v. The Hegemonic Scholar Class: Assessing How Cultural Similarities Between America's Gang Leaders and Academia's Elite Influence Student Agency, Equity, and Relevance in Knowledge Production
Nicole Patrie; Re-imagining education from inside: Finding non-punitive academia through prison education
Panel 2. Technologies of Power within Academia
Miriam Hird-Younger; University as Investor: Process and Accountability
Karimah Rahman; An Intersectional and Decolonial Policy Analysis Towards Transformative Justice: Intersectional Positionalities of Power/Privilege and the Colonial Harm and Violence They Reproduce in Academia
Lachlan Summers and Kathryn Gougelet; When Police Pass the Baton to Campuses
Allison Lunianga, Jonathan Carlson, and Leah Wilson; This Paper Would Like to Speak to Your Manager: Whiteness, Technoculture and Reckoning with the Karen
12:15 – 1:00 — Lunch break
1:00 – 1:15 — Spoken word: Balam and Co.
1:15 – 2:30 — Panel 3
Panel 3. #UsToo
Sally Mercer; The cloak of not-belonging: the phenomenon of imposter syndrome in first generation academics
Anna Lippman; Are We in Trouble?: Students Tackling Anti-Black Racism in Sociology and the price of social justice
Amber-Lee Varadi; A collective grievance, a collective acquiescence: Rememberings and hauntings in our pandemic of racialized violence
Sabeen Kazmi; 'Deconstructing civility': civility as a reaffirmation of colonial institutionalizing of class, caste, power and privilege
2:30 – 2:35 — Health & logistic break
2:35 – 3:00 — Collective re-imagination
3:00 – 3:30 — Closing remarks
3:30 – 4:00 — Next steps and publication (Panelists only)