The annual John Ll. J. Edwards Memorial Lecture is delivered in honour of the Centre's founder, Professor John Ll. J. Edwards. The lecture is presented by the Centre for Criminology & Sociolegal Studies and Woodsworth College, University of Toronto.
Previous Edwards Lectures
Twenty-Second Annual Lecture
Post-Pandemic Scenarios: A view from the perspective of the epistemologies of the South 
Professor Boaventura de Sousa Santos (University of Coimbra)
Wednesday, February 10, 2021 12:00 pm to 2:00 pm
Abstract: I have been arguing in favor of the epistemologies of the south, a new epistemological paradigm aiming at bringing about global cognitive justice (lastly, The End of Cognitive Empire, Duke University Press 2018). In light of this epistemological stance, I identify and evaluate three possible scenarios in the period of intermittent pandemic we are entering now.
Twenty-First Annual Lecture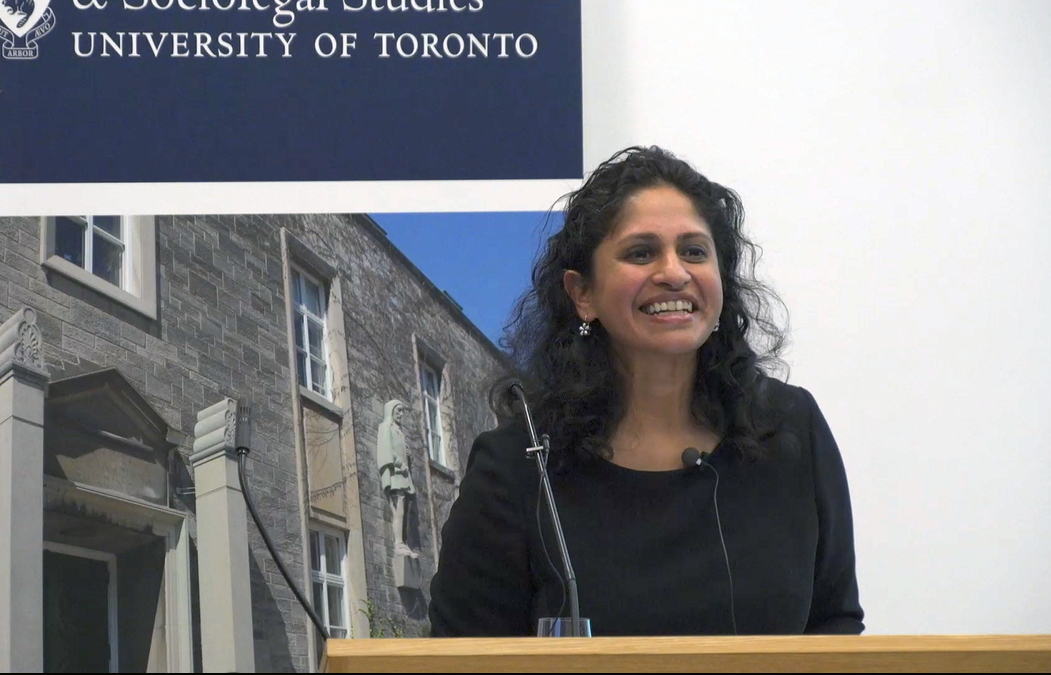 Video recording of the lecture
Thursday, November 28, 2019
The Sexual Politics of Anti-Trafficking Discourse
Speaker: Professor Prabha Kotiswaran
Time: 5:00-6:30pm
Location: Canadiana Gallery Rm 160 – 14 Queen's Park Cres West
Reception to follow. Attendance is free but registration is required. Please RSVP at edwards2019.eventbrite.ca
Twentieth Annual Lecture
Monday, November 19, 2018
The Accidental Jurist: Thoughts on a life in the law
Speaker: Senator Murray Sinclair
Time: 5:00-6:30pm
Location: Debates Room, 2nd floor Hart House, 7 Kings College Circle
Reception to follow. Attendance is free but registration is required. Please RSVP to crim.events@utoronto.ca
Nineteenth Annual Lecture
Thursday, October 26, 2017
The arcs of mass incarceration: Four turning points in the history of U.S. penality and their legacy for the contemporary penal state
Speaker: Jonathan Simon, Professor of Law at UC Berkeley
Time: 5:00 – 6:30pm
Place: Canadiana Gallery Rm 160 – 14 Queen's Park Cres West
Reception to follow. Attendance is free but registration is required. Please RSVP by Friday, October 20, 2017 to crim.events@utoronto.ca
Eighteenth Annual Lecture:
Friday April 8th, 2016
Are we there yet? The future of penal reform and the carceral state in the US."
Speakers: Marie Gottschalk, Professor at the University of Pennsylvania
Time 4:30 – 6:30pm
PLACE: Canadiana Gallery Building  Rm 160 – 14 Queen's Park Cres West
Reception to follow. Attendence is free but Registration is required.  Please RSVP by Monday, April 4th to crim.events@utoronto.ca
If you are a person with a disability and require accommodation, please contact Lori Wells at  (416) 978- 3722 x 226 or email crim.events@utoronto.ca to make appropriate arrangements
Seventeenth Annual Lecture: March 26th, 2015
Lecturer: The Honourable Professor Irwin Cotler
Topic: The Omnibus Criminal (In) Justice Agenda: Whither Parliament, the Courts and the Charter
Sixteenth Annual Lecture: February 6, 2014
Lecturer: Professor Emeritus Anthony Doob, University of Toronto
Topic: "Losing our balance: Old and New Directions in Canadian Criminal Justice Policy"
Fifteenth Annual Lecture: November 20, 2012
Lecturer: The Hon. Justice Ian Binnie
Topic: "Taking Wrongful Convictions Seriously"
Fourteenth Annual Lecture: September 20, 2011
Lecturer: Lucia Zedner, Oxford University
Topic: "The Historical Origins of the Preventive State – or just how new is the new penology"
Thirteenth Annual Lecture: January 17, 2011
Lecturer: Federico Varese, Oxford University
Topic: "Current Challenges in the Study of Organized Crime"
Twelfth Annual Lecture: January 25, 2010
Lecturer: Natalie Zemon Davis, Princeton University and University of Toronto
Eleventh Annual Lecture: November 27, 2008
Lecturer: Loïc Wacquant, University of California, Berkeley, and Centre de sociologie européene, Paris
Topic: "Reconstructing the Penal State"
Tenth Annual Lecture: October 17, 2006
Lecturer: Susan Silbey, Massachusetts Institute of Technology
Topic: "Governing Green Laboratories: Trust and Surveillance in the Cultures of Science"
Ninth Annual Lecture: March 3, 2005
Lecturer: Professor Richard Ericson, Professor of Criminology, University of Toronto
Topic: "Criminalization and the Politics of Uncertainty"
Eighth Annual Lecture: October 22, 2003
Lecturer: Professor Martin Friedland, University Professor Emeritus of Law and Criminology, University of Toronto
Topic: "Criminal Justice in Canada Revisited"
Seventh Annual Lecture: March 6, 2002
Lecturer: Professor David Garland, New York University
Topic: "The Culture of Control: Crime and Social Order in Contemporary Society"
Sixth Annual Lecture: March 27, 2001
Lecturer: Professor James Fyfe, Crime and Justice Research Institute, Temple University
Topic: "Police Officers Involved in Career-Ending Misconduct"
Fifth Annual Lecture: March 23, 2000
Lecturer: Professor John Beattie, University of Toronto
Topic: "The Problem of Urban Crime: London 1660-1750"
Fourth Annual Lecture: February 25, 1999
Lecturer: Professor Kent Roach, University of Saskatchewan
Topic: "The Attorney-General and the Charter"
Third Annual Lecture: December 3, 1997
Lecturer: Professor Janet Chan, University of New South Wales
Topic: "Policing Accounts: The New Accountability and Cultural Resistance"
Second Annual Lecture: November 13, 1996
Lecturer: Professor Pat O'Malley, La Trobe University, Australia
Topic: "Criminology and the New Liberalism"
Inaugural Lecture: November 1, 1995
Lecturer: Professor Andrew Ashworth, King's College, University of London, England
Topic: "Mens Rea and Statutory Offences"